Spiritual Life - our school
St Margaret Ward Catholic Primary School is a place where the Spirit of Christ lives. All children are welcomed and each one nurtured in a union of support between school and parish. We celebrate the uniqueness of the individual and believe each child is created in the image and likeness of God.
We are a family who love, believe and achieve together.
Harvest Collection
During our Harvest Assembly, we were reminded of all the good things that God gives us and how important it is to share with others who are not so fortunate. Thank you to everyone who responded to our appeal for tins and food items for Cornerstone, the Day Centre which provides clothes, meals and support to the homeless in Manchester.
Crowning of Our Lady's Statue

May is traditionally the month when we especially pray to and honour Our Lady and so on Tuesday 23 May, we held a special morning assembly to celebrate together as a school family. Each child was asked to bring a flower which they carried in procession and as the children sang hymns, our school statue of Our Lady was crowned with flowers by two of our Year 3 children who had just recently celebrated their First Communion.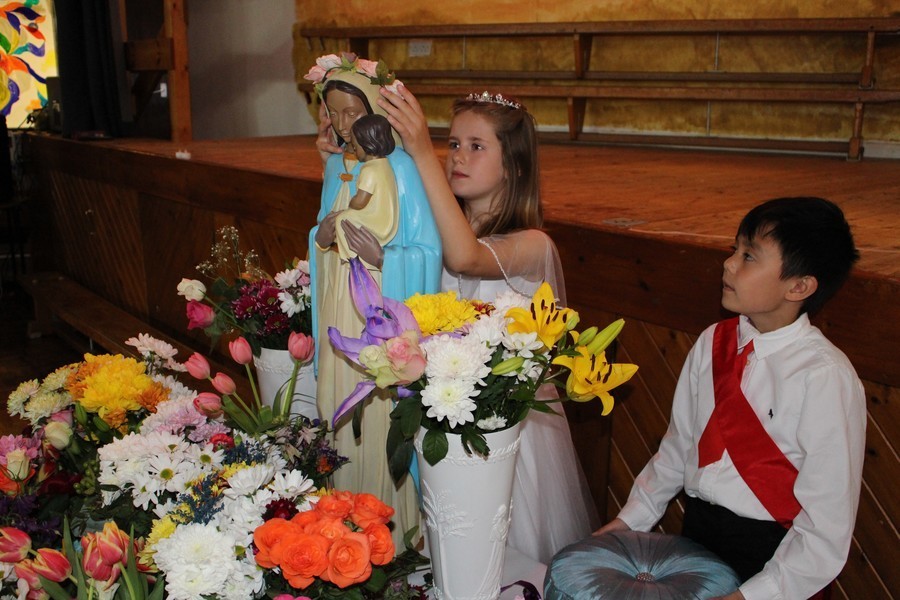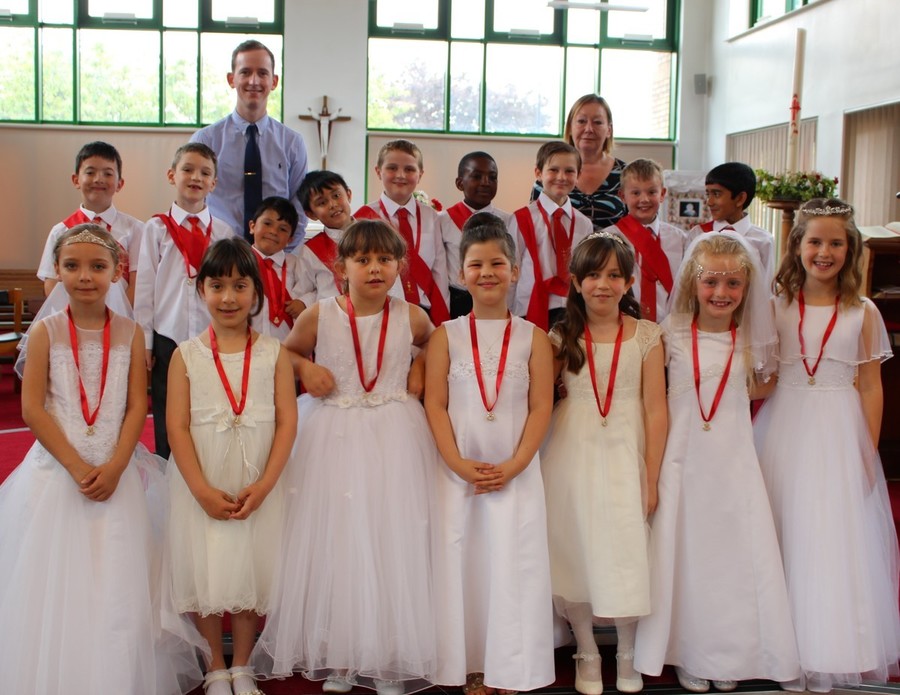 First Holy Communion
Congratulations to all the children who completed the Sacramental programme in 2017. With the support of their families, the children fully embraced this time of preparation.

In line with tradition, a Mass was celebrated again on Tuesday 16 May 2017, enabling our whole school community to share in this joyful celebration. The day concluded with a party for all the children who had completed the programme.
Easter Production
Our Easter Reflection this year took place on Tuesday 4th April and once again, it was a very moving and spiritual experience for all present. It started with a re enactment of the Last Supper, followed by the Stations of the Cross and the reflection ended with the joyful story of the Resurrection on Easter Sunday.
Well done to the actors and readers from Years 3 and 4 who moved everyone with their emotional performance and singing.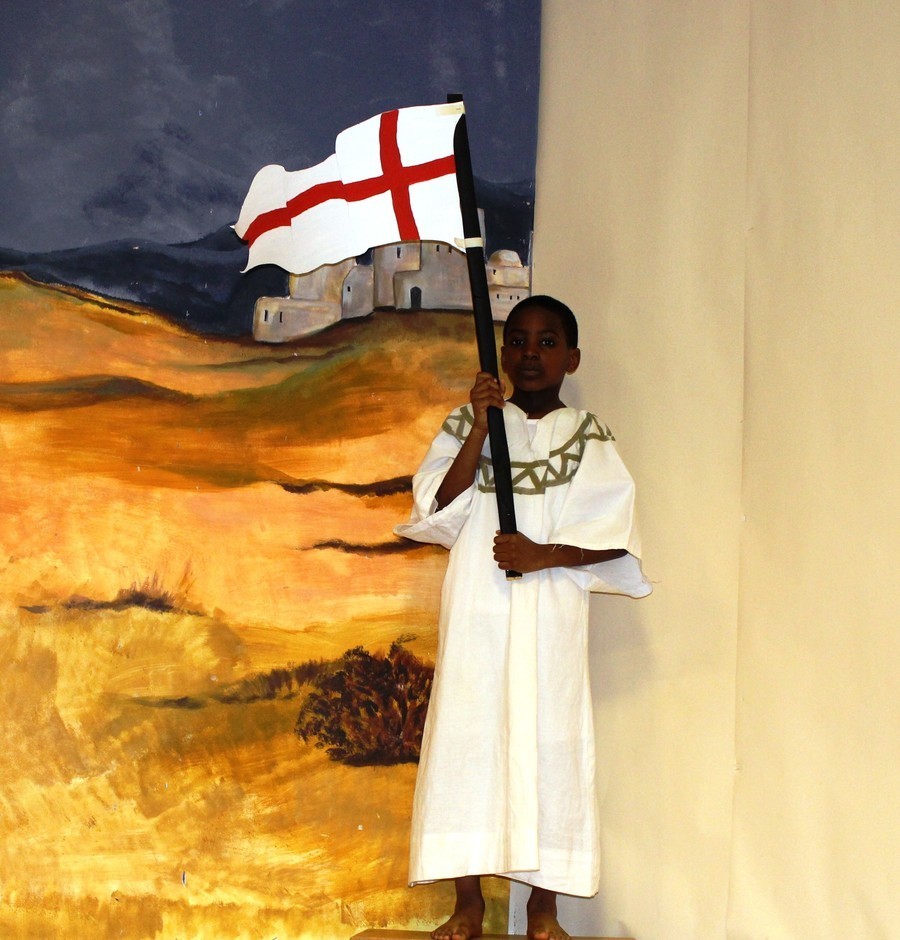 Lenten Fundraising
Following a recent assembly about the East Africa Humanitarian Crisis, the children in our Year 6 were inspired to do something to help the people who are suffering and asked if they could organise a cake sale and send any money raised to the CAFOD East Africa Appeal. A letter from the class was sent home; many children brought in cakes and everyone helped on the day to make the cake sale a great success. We raised £152.50 - well done to everyone in Year 6 for making a difference!
On Friday 31st March the children and staff were invited to come into school in their own clothes for a donation of £1 and this raised an additional £218.50 towards the CAFOD appeal.
Lenten Appeal 2017
Our Lenten charity was Kathy's Centre in Uganda which was recently been built in memory of Kathy Smedley, a teacher who worked at St Margaret Ward School for thirteen years but sadly passed away in 2014 from cancer. Kathy and her husband Martin set up a charity called Act4Africa in 2000 and this new centre will be used by the local community in a variety of ways and will include a kindergarten.
On 24 February, Martin and a colleague, Sarah, came into school to talk to the children about the charity and the children who will be using the centre, asking if families would consider donating toys suitable from birth to 6 years of age. Within days, our children and staff donated a wonderful selection of toys which Martin has now delivered to Kathy's Centre. He plans to come back into school when he returns to the UK and will share images and news of the Centre and the children playing with the toys.