Fair Trade
Our 2017-18 Fair Trade Group
Our new Year 5 members, along with our Year 6 group, helped to choose a range of Christmas cards, gifts and Fairtrade goodies to sell and enthusiastically manned our Traidcraft stall during Parents' Evening.
FAIRTRADE FORTNIGHT 2017 - 27th February to 12th March
IT'S TIME TO PUT FAIRTRADE IN YOUR BREAK
The food on our tables, the tea and coffee in our mugs, all from farmers who work hard but however hard they work to provide the things we depend on, millions of farmers in developing countries aren't paid what they deserve. The theme of Fairtrade Fortnight 2017 was to help our friends, neighbours, colleagues and communities to put Fairtrade in their break and take exploitation out.
Our St Margaret Ward school Big Brew-Big Fairtrade Break took place on Tuesday 28th February and we would like to thank all the parents, family members and parishioners who came along and joined in the fun.
Everyone got in to the spirit of promoting the Fairtrade message by decorating their own paper mugs and their creative talents were rewarded with a free bar of chocolate and a place on our gallery display. A special thank you to Chocolate and Love for the very generous donation of gorgeous creamy dark chocolate.
With Shrove Tuesday falling on the same day, our Fairtrade chocolate proved to be a popular choice with the children when it came time to choose a filling for their pancakes!
We would also like to thank Percol coffee for the Fairtrade Colombian coffee, the Co operative Membership for their resources and voucher and Divine Chocolate for their samples.
Our St Margaret Ward Fair Trade Group
Welcome to our new members from Class 5 and together with our Year 6 members, we will continue to work hard throughout the year to promote Fair Trade in many ways.
We sold Traidcraft items at our stall during Parents Evening and distributed the Autumn/ winter Traidcraft catalogue to staff, parishioners and parents who wished to place orders for Fair Trade Christmas cards and gifts.Thank you to everyone who bought from our stall or placed orders from the catalogue. We also promoted the 'Show you Care' campaign by highlighting how we can all help improve the lives of farmers and producers by buying products from the Traidcraft catalogue.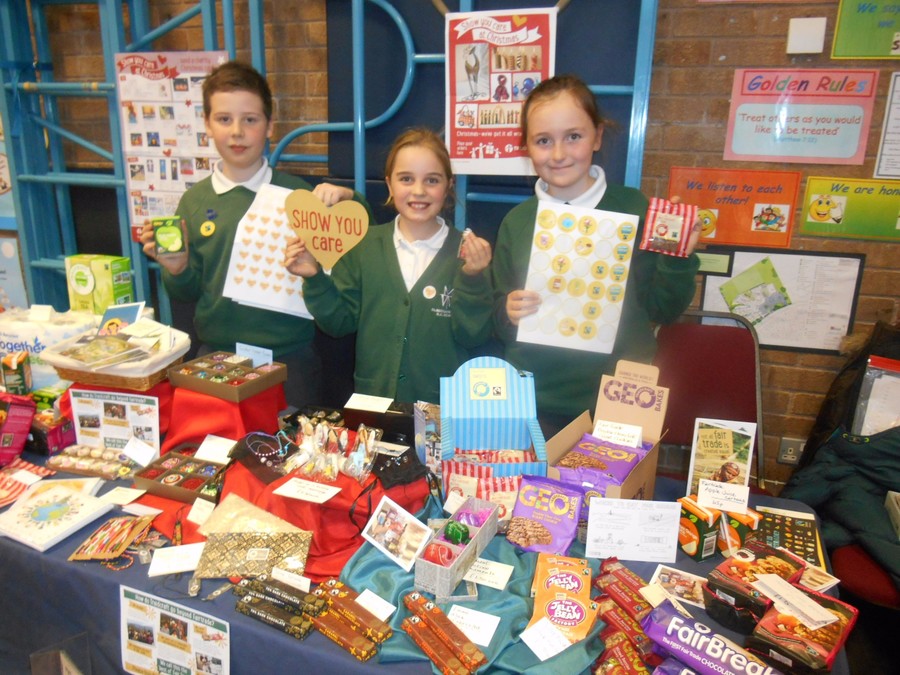 We continue to be a FairAchiever School!
We have once again been awarded FairAchiever status and we are all delighted that everyone's hard work and enthusiasm in promoting Fairtrade and trade justice has been recognised - our support of campaigns such as 'Make Food Fair', the Fair Necessities Appeal and Traidcraft Recycling was commended for raising awareness both in school and within the wider community.

The Fairtrade Schools Award is now awarded on three different levels - FairAware, FairActive and the highest award, FairAchiever. Find out more about Fairtrade Schools and the Fairtrade Foundation.