Visitors
Kinetic Theatre Lightshow
RNLI
In October, we welcomed Gwyn from the Royal National Lifeboat Institution who came in to talk to the children about water safety
Pirate Captain DanTastic
On Wednesday 17 May we said "Ahoy there" to Captain DanTastic when he came in to visit our Nursery and Reception children. The children and staff dressed as pirates and enjoyed hearing all about how pirates lived and about their galleons and ships.
Chicks
What better way to celebrate new life than with some cute baby chicks! Our Nursery children watched as the incubated eggs hatched and the little chicks were born then all the other classes had the chance to see our little visitors in their brooding box.
The Hatching 4 Schools Programme offers children and adults an opportunity to interact, care for and learn about chickens and their life cycle, from incubation, hatching and finally growth. The school programme lasts for 2 weeks and once the programme is over, the chicks and equipment are collected and the chicks are then taken home where they are reared on in a caring and natural environment.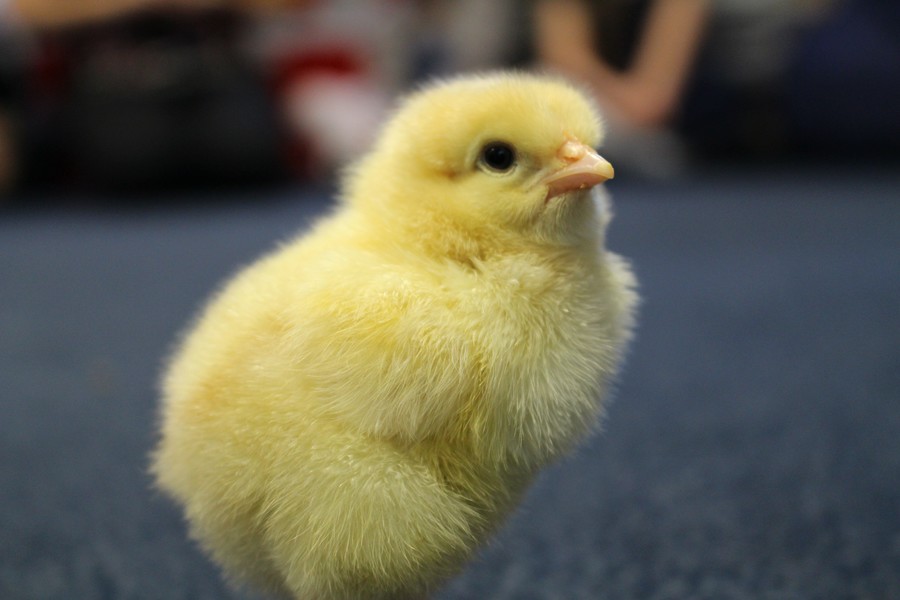 Police Community Support Officers
PCSO Carlos and PCSO Jane came in to talk to Year 6 about staying safe in the community and online. They also spoke about their role as a Police Community Support Officer and explained more about what their job involved. The children had an opportunity to ask questions (and there were lots) and they were inspired by the answers.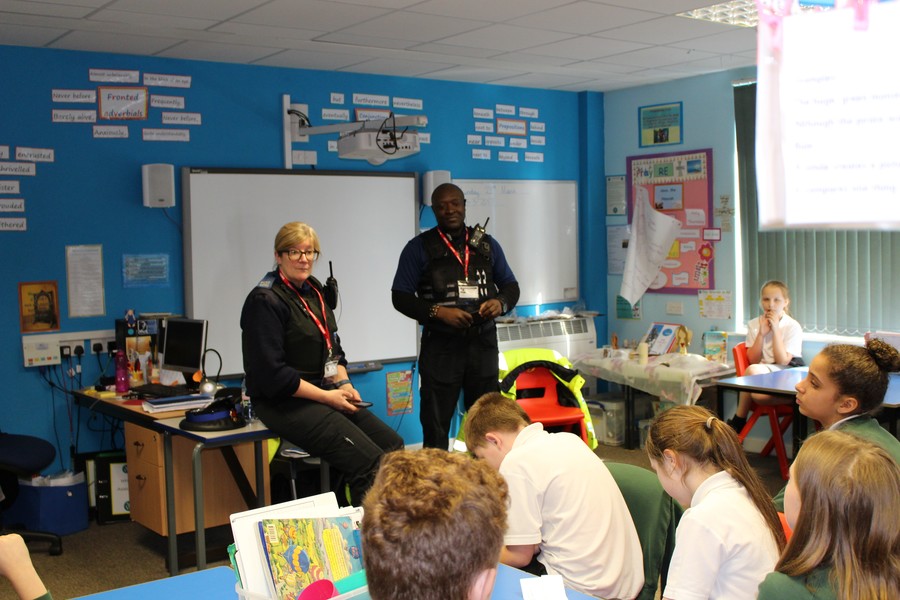 Trafford Council and Percy the Penguin
On 8th March, Mark Dale from Trafford Council came to talk at a whole school assembly about the importance of disposing of litter responsibly and taking care of our environment. He delivered a penguin litter bin which speaks when litter is deposited. The children in Y1 recorded messages such as, 'Ummm, I'm hungry, feed me some more', in order to encourage children to use it and Percy the Penguin is proving to be so popular that some children have even brought litter from home so they can use it and hear him speak!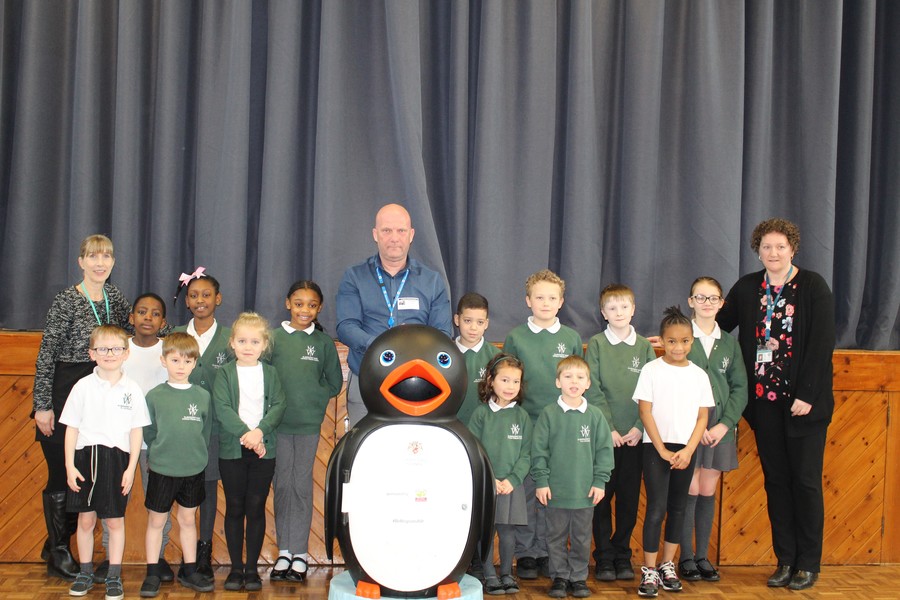 Arty-Fact Theatre Company
On Thursday 15 September, we were delighted to welcome back to St Margaret Ward, the Arty-Fact Theatre Company. This year, they treated us to a wonderful performance of 'The Reading Room'. This play was all about a budding author who came across the works of the classic authors, Homer, Dickens and Shakespeare, in an old library. The actors acted out extracts from Macbeth and Oliver Twist and we all had a lot of fun whilst learning about the life and work of these great authors.
Year 6 then worked with the actors during a workshop to tell the story of Macbeth. They enjoyed learning about the characters of Macbeth, Lady Macbeth, Banquo, King Duncan and Macduff. A great time was had by all!
Young Enterprise
Children from Years 4, 5 and 6 each took part in a one day workshop delivered by the Young Enterprise team on Monday 20th June 2016. The idea of the primary school programme is to offer children a glimpse into the world of work and life in the community with fun and interactive lessons.
At each stage, students worked directly with specially trained Young Enterprise business volunteers from the local community whose aim was to raise aspirations, develop key skills and open the children's eyes to the world of enterprise.
Year 4 looked at local life and what it takes to make a great community. The activities gave the children a better understanding of how people and businesses work together where they live. They learnt how to assess the relative importance of a community's needs and want and tried to work out what it would be like to take responsibility for a community they have designed by voting and making decisions
Year 5 found out how a city works, and how all the aspects of a city are linked together and have to work closely if it is to work well. The children identified the main features of a city, learnt that the jobs and skills of workers in key industries are vital in determining the character of its life and began to recognise how people and businesses are inter-dependent.
Year 6 explored how Britain as a nation works and examined the crucial roles and responsibilities of businesses, Government, and people in helping our nation to thrive. They also looked at how countries of the world rely on each other for their prosperity and using a world resource map, trading game and international enterprise challenge, the children considered the decisions that countries and businesses make to ensure our needs and wants are satisfied.